Aluminum foil shall be annealed and softened before embossing. The pattern on the aluminum foil is pressed out by a pair of rotating rollers. One roller is a hard steel roller engraved with patterns, and the other is a large-diameter paper roller or rubber roller with great toughness and elasticity. In order to make the pattern on the aluminum foil clear, the paper roller shall be flexible and moderate. Before embossing, the paper roller shall be properly wetted, and the pressure shall be run in from light pressure to heavy pressure for 10 ~ 20min.
Parameters of embossed aluminum foil roll
Alloy: 8011 etc
Color: silver, black, gold etc
Thickness: 15 micron, 60 microns etc
Width: max 1250mm
Surface treatment: printed, coated etc
Custom pattern: orange peel, star struck emboss etc
Applications of embossing aluminum foil coil
Cake board, easy pull off pre cut heat seal for food grade yoghurt cup container lid, laminated paper for food wrapping, craft, double sided colored soft aluminium foil sheet for chocolate packaging, hair salon coloring use, tray, aluminum foil texture paper bag, food box, air conditioning duct, roofing, pattern foil paper board lid, patterned aluminum foil pull cigarette interior, kitchen waterproof sticker, adhesive tape, composite panel, easy open peel off lid etc
Hot sales applications
Orange peel embossed aluminum foil for freezer
About us
Henan Huawei Aluminum Co., Ltd. is the leader of many aluminum manufactures and suppliers in China. We strictly control the quality and focus on customers. We hope to have in-depth cooperation with you and provide you with high quality aluminum material products custom OEM services. If you want to get the newest and best prices by per kg or per ton standard weight, please contact us.
Aluminum foil production line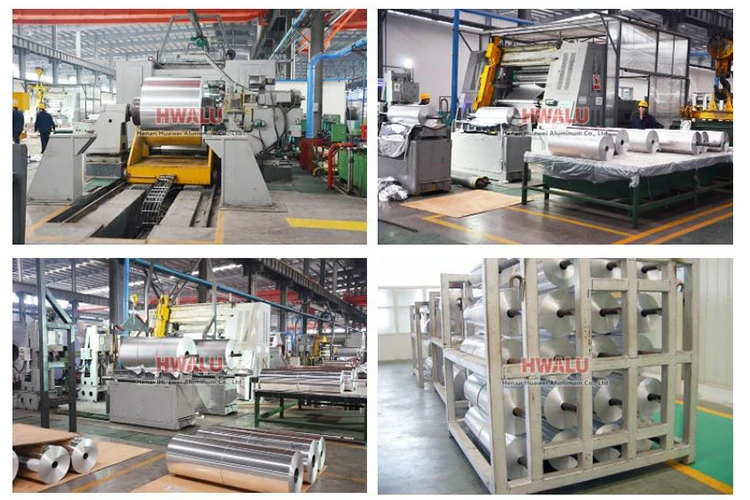 Packing
Package: Wooden case
Standard Wooden case specification: Length*Width*Hight=1.4m*1.3m*0.8m
Once needed,wooden case dimension could be redesigned as required.
Per wooden case Gross Weight scale: 500-700KG Net Weight: 450-650KG
Remark: For special packaging requirements, corresponding shall be added accordingly.